Chicken or beef? Urine reveals what you eat
Based on a urine sample, researchers from the Department of Food Science at Aarhus University can differentiate between intake of chicken and beef. This is useful knowledge for future investigations into the interaction between diet and human health.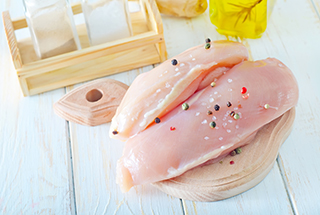 What did you have for lunch yesterday? And what are you going to have for dinner? These questions may seem simple, but there can be uncertainty because can you remember every detail?
This is a challenge that many researchers need to deal with when they carry out observational and epidemiological studies of human food intake in relation to health. Typically, subjects must self-report what and how much they have eaten. This can give rise to errors because the subjects consciously or unconsciously forget a thing or two.
Lately, researchers have had their eyes on metabolomics. This is an analysis method that enables investigation of which metabolites are found in the body when you have eaten a specific type of food. It makes it possible to identify biomarkers for the intake of, for example, coffee or salmon. Researchers can thus use urine samples to determine objectively if the subject has eaten a particular type of food within the past 24 hours.
The Department of Food Science at Aarhus University has worked with metabolomics for years. In a study with rats researchers from the department were the first to investigate which metabolites are excreted in the urine after having eaten chicken or beef.
- We were the first to compare beef and chicken directly and identify a range of biomarkers that can be measured in the urine of rats that have eaten either one or the other type of meat. We have thus taken a step towards an objective method for measuring the intake of specific foods in humans, says PhD student in the Department of Food Science Louise M. A. Jakobsen.
Meat becomes "the bad guy"
Identification of biomarkers for meat intake is important in relation to investigating how meat affects the human metabolism. Meat is often – perhaps unfairly – related to development of lifestyle diseases and cancer.
- The problem with observation studies is that there is a risk that meat is proclaimed as "the bad guy", because there is a big probability that people who eat a lot of meat also have a low intake of fruit, vegetables and fish, and a high intake of fat – food components that are all related to human health. One could say that a dietary pattern that includes a large proportion of meat will also be associated with a less healthy diet in general, says Louise M.A. Jakobsen and continues:
- We think that the total dietary pattern is more important than to what extent a person eats a lot of meat. The interaction between the factors is what is important, and we can use metabolomics to study that.
The trials have been carried out in rats, and there is a need for further studies to elucidate the link between the human body and food intake. Initially, the researchers are continuing their collaboration with a group of researchers at Ghent University and are carrying out studies with pigs into the combination of various dietary patterns and meat intake.
---
More information
Read the article " Impact of red meat consumption on the metabolome of rats" in Molecular Nutrition and Food Research.
---
Contact
PhD student Louise Margrethe Arildsen Jakobsen
Department of Food Science
Email: loujak@food.au.dk
Mobile: +45 2073 1316
Professor Hanne Christine Bertram
Department of Food Science
Email: hannec.bertram@food.au.dk
Telephone: +45 8715 8353