Green demonstration plant ravaged by fire
A building at AU Foulum, which among other things houses a demonstration plant for biorefining, was ravaged by fire on Tuesday night. Despite damage to the building, the researchers expect that the experimental activities will be able to resume within two weeks.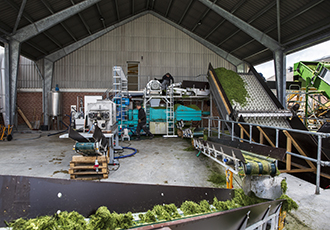 On Tuesday 27 May, a building on AU Foulum caught fire. The building contains i.a. a large demonstration plant for refining green biomass as well as a so-called HTL plant that can convert organic material into oil and other products.
The fire caused extensive damage to the roof structure and electrical system as well as water and soot damage in large parts of the building.
- Fortunately, the biorefinery itself has not been affected by the fire, says head of the plant, Assistant Professor Morten Ambye-Jensen from the Department of Biological and Chemical Technology.
The HTL system was not directly affected by the fire either.
The experimental activities at the facilities will therefore be able to resume when the electrical installations have been re-established and the building has been safety approved.
Morten Ambye-Jensen expects this to happen in a few weeks.
Researchers at the plant conduct experiments with the extraction of protein and other high-value products from green biomasses. This technology is considered one of the cornerstones of the green transformation of agriculture.
"The harvest of green rye and grass start now, so it is very important that the plant will be up and running as fast as possible," says Morten Ambye-Jensen.