Sustainability lies in the genes
Potted plants can be produced much more sustainably by using new precision breeding - instead of chemicals and GMO. The technique can also be applied to other crops.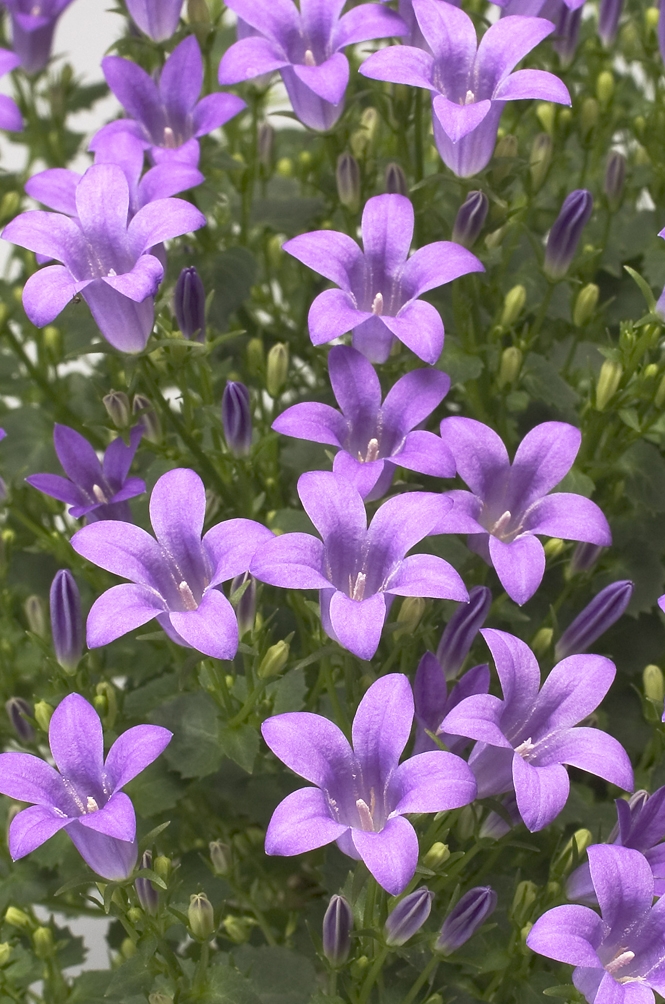 Would you like to buy plotted plants that are beautiful, long-lasting and produced without the use of pesticides? It can be a difficult wish to grant for some potted plants but this could change. The solution lies in the genes.
Scientists from Aarhus University are collaborating with the commercial nursery Gartneriet PKM in a new project with the aim of developing potted plants that are equipped with selected genes that provide the potted plants with the desired traits using the latest precision breeding techniques.
The new breeding tools can contribute significantly to reducing the consumption of pesticides and other chemicals in the nursery business. In addition, due to a shorter production period, savings can be made on energy, water, and nutrients – all of which will benefit the environment and the nursery owner's finances.
Blue bloom breaks ground for sustainability
Campanula, the popular potted plant from the bellflower family, has been chosen to be the trailblazer. With an annual Danish production of 25 mill. plants, Campanula is an important potted plant in Denmark. The total European production is 35 mill. plants per year, of which Gartneriet PKM produces almost half.
To ensure that the plant develops a compact shape and that the flowers do not wither, the plant is usually treated with growth inhibitors and preservatives. These include the hormone ethylene, which can lead to quality loss. Ethylene is a type of aging hormone that ripens plants and fruit.
To counter the effect of ethylene on potted plants, the plants are treated with Argylene, which contains silver. Argylene has environmental issues and it is therefore necessary to find a new and more sustainable solution.
Some plants are more sensitive than others to ethylene, but the nursery Gartneriet PKM has developed a Campanula that is insensitive to ethylene. This particular trait is due to a mutation to which Gartneriet PKM has exclusive rights.
On the trail of beneficial genes
One of the project's tasks is, with the aid of precision breeding instead of slower, traditional breeding, to breed for this particular gene in "regular" Campanula. Other genes with an effect on ethylene sensitivity will also be included in the studies.
Another challenge in the production of potted plants such as Campanula is to encourage them to have a compact, bushy growth instead of becoming long and lanky. The plant hormone gibberellin causes plants to elongate but there are differences as to how sensitive plants are to this growth hormone and thus how great the need is for treatment with growth inhibitors.
The scientists will work with the genes that affect plant sensitivity to gibberellin in the same way as with the genes for sensitivity to ethylene. The aim is to develop a Campanula that is less sensitive to both aging and growth hormones and that can pass these traits on to following generations of Campanula.
The modern gene technology toolbox
A whole range of new precision breeding techniques is available. What is the difference between these new breeding techniques and regular plant breeding?
With traditional breeding, the plant breeder seeks to select plants with the best genes. Since the genes are not visible, the plant breeder selects plants based on their appearance and hopes that they will pass on the desired traits.
In recent years, molecular biology has made significant progress. It is no longer necessary to "fumble in the dark" for the hopefully right genes. The light has been turned on so that breeders can see and select the genes they want to focus on.
This is a very simplified explanation of a range of precision breeding technologies called "New Breeding Techniques (NBT)". The NBT toolbox enables plant breeders to develop new varieties in a way that resembles traditional breeding but is much quicker, cheaper and more precise.
Precision-bred plants can be used in contexts where GMO is undesired, which will have great production and economic value for Danish plant breeders.
The four-year project has been granted 3.1 mill. DKK from the Ministry of Environment and Food of Denmark's Green Development and Demonstration Programme (GUDP).
---
For more information please contact: Associate professor Henrik Brinch-Pedersen, Department of Molecular Biology and Genetics, e-mail: hbp@mbg.au.dk, telephone: +45 8715 8268