AU students secure victory at international entrepreneurship competition
A multidisciplinary team of student entrepreneurs from Aarhus University has just won an international competition focused on novel, sustainable food systems, organized by the European Knowledge Innovation Community EIT Food. They have created a sound business model for a new company, "The first aid kitchen", and developed their first prototype, a new tasty crispbread "PEASY-CRISPEA".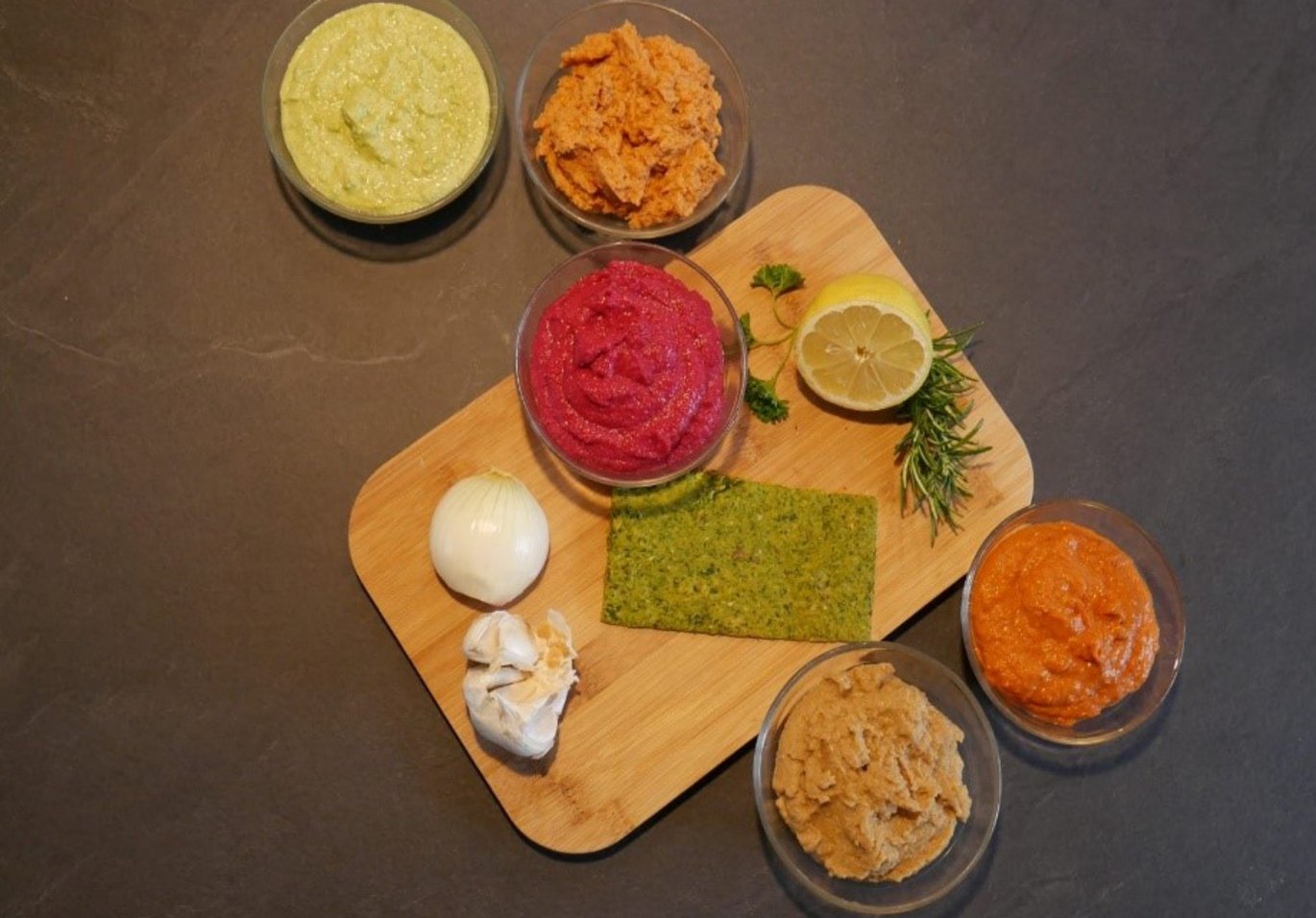 A crispbread with a high level of pea protein, which also tastes good. This is the recipe for victory for a team of students from Aarhus University. They have just been honored at the international entrepreneurship competition "Food Solutions", which took place on 9 December and was organized by the European EIT Food consortium, Europe's leading open innovation initiative working to make the food system more sustainable, healthy and trusted.
The AU team took on the task of developing a food product that is both high in fiber and based on an unrefined plant protein source - and appealing to the consumer. In a final pitching competition, they faced off against other teams from Hohenheim University and Helsinki University presenting an in-depth business case to judges belonging to multinational companies.
Sandra Beyer Gregersen and Milena Corredig from the Department of Food Science and Liisa Lähteenmäki from the MAPP Centre at Aarhus University have acted as mentors for the team and followed them since March:
- The team from Aarhus University has created a sustainable alternative which is not only healthy, but gluten free and affordable. In a short period, they have developed a product with many good qualities, and the judges emphasized that. Crispbread is usually associated with something dry and boring, but the team has managed to solve this challenge with the PEASY-CRISPEA product. The judges were impressed by the new company vision for a sustainable line of products, and highlighted that this product proposition was not only tasty, but also with a content of pea protein unheard of. Pea could be grown here in the Nordic countries and therefore become an important ingredient in the sustainable, local food products of the future, says Sandra Beyer Gregersen.
Collaboration across fields of study
The Aarhus team consists of students from the Department of Food Science, the Aarhus School of Engineering and Aarhus School of Business and Social Sciences, and Sandra Beyer Gregersen is convinced that the interdisciplinary collaboration has been an important ingredient in the development of the crispbread:
- The teams have not only had to develop a food product, they have also had to develop a business model with a realistic and timely plan for bringing the product to the market. It has been crucial for the victory that the students have different educational backgrounds and have been able to contribute with their respective core competencies.
Recognition from well-established companies
The judging panel consisted of representatives from EIT Food and the large, international companies Döhler, PepsiCo, Puratos Denmark and Valio, and the victory is therefore a great recognition for PEASY-CRISPEA:
- PEASY-CRISPEA has won a cash prize of 1250 euros, but the big win has been the recognition that they have received from the judging panel, and the valuable feedback and network that they can use to continue to develop their new entrepreneurial dream.
---
More information
Read more about the entrepreneurship competition on this website
About EIT Food: The European Institute of Innovation and Technology (EIT) is an independent body under the auspices of the EU with the purpose of boosting innovation and entrepreneurship in Europe. EIT is an umbrella body for a range of consortia working with innovation and entrepreneurship in various areas, such as climate, raw materials and food. Visit the EIT Food website here.
Contact:
Sandra Beyer Gregersen, Department of Food Science, supervisor for the PEASY-CRISPEA team, sandrab.gregersen@food.au.dk, mobile: 61968629
Maj Julie Jensen Brohus for PEASY-CRISPEA, majbrohus@gmail.com