Research from Aarhus University goes hand in hand with environmental management
Danish peatland area has been reduced by approximately 50,000 ha since 1975, according to studies from Aarhus University. These results are the basis on which new Danish legislation regarding wetlands and permanent removal of peatlands from agricultural production builds and is an example of how applied research goes hand in hand with environmental management.
Since 1975 peatland area in Denmark has shrunk in area by 50,000 ha. This can be seen in surveys and mapping carried out by scientists from the Department of Agroecology at Aarhus University. These scientists' results can be applied directly in the central Danish environmental management.
- We have prepared a map of the distribution of peatlands in Denmark. The map has been used to designate areas that can be included in the new wetland scheme in which peatlands are permanently removed from agricultural production. The landowner is fully compensated for the removal, explains Senior Scientist Mogens H. Greve from the Department of Agroecology.
The government has decided to establish a subsidy scheme for nature projects on carbon-rich wetland soils with the aim of implementing compensatory climate action. This is a follow up to the previous government's Climate Plan and the Nature and Agricultural Commission's recommendations.
Nature, water and the climate will benefit
Removal of peatlands means a permanent stop to tillage and fertilisation as well as raising the water table to ground level. This will be done by filling ditches and disconnecting drains.
The wetland scheme has a range of positive effects on nature, the aquatic environment and the climate:
Reduces agriculture's emission of greenhouse gases from carbon-rich wetlands
Promotes the quality, interconnectedness and resilience of nature
Promotes biodiversity
Contributes to a better aquatic environment
The effect of wetlands on the climate are incorporated in Denmark's report to UN's climate panel IPCC regarding reduction of greenhouse gases. Reduction of agriculture's emissions from the carbon-rich wetlands is expected to be 33,000 tons of CO2-eq/year, corresponding to 13 tons of CO2-eq./ha/year. In the period from 2014 to 2017 a removal of approximately 2,500 ha is expected. The total economy of the scheme is DKK 165.2 mill. which is co-funded by the EU.
The wetland scheme is administered by the Danish AgriFish Agency and the Danish Nature Agency. The Danish AgriFish Agency receives applications for wetland projects, makes decisions regarding subsidies, and, for projects for which it is relevant, buys and sells national project land areas, and deals with land distribution. The Danish Nature Agency carries out technical evaluation and treatment of applications regarding wetland projects. The Department of Agroecology is a consultant in connection with this evaluation.
The projects are carried out by the Danish AgriFish Agency's local nature management units and municipalities.
Wetland mapping from 2009 and 2010
In connection with activities that followed the Kyoto agreement of 1997, an area-representative sampling of agricultural land was carried out in 2009 and 2010. Mapping was only carried out on land where we knew that there had previously been peat.
In the course of 16 months approximately 10,000 new drillings were carried out all across Denmark. The soil was described each place. Soil samples were taken in the whole depth of the peat layer. They were analysed for carbon and nitrogen content and volumetric weight. In addition, landscape photos were taken at all locations.
The results from the new mapping were ready in 2010. They showed that there was peat in only 17 per cent of the drill samples which corresponds to a present peat area of approximately only 68,000 ha. The mapping used a geo-statistical method to calculate the probability that a given area is peatland. Since the samples were area-representative, we could point out the areas that were distributed corresponding to 68.000 ha (red area in Figure 1).
A direct comparison with the distribution in 1975 was not possible because the new mapping used other methods, including the definitions of peatland and agricultural land. In order to compare the present distribution of peatland with that of 1975, the mapping in 1975 was repeated using the same method as the one used for the 2010 survey (orange area in the figure).
The peatland areas in 1975 and 2010 were compared. This showed that about 50,000 ha of the 1975 peatland (Table 1) was no longer peatland.
Table 1 – The distribution by area of the themes in Figure 1
| | |
| --- | --- |
| Mapping | Distribution in ha |
| Total area, wetlands | 730.000 |
| Historical distribution of peat (agricultural land) | 243.000 |
| Distribution 1975 (agricultural land) | 118.162 |
| Distribution 2010 (agricultural land) | 68.170 |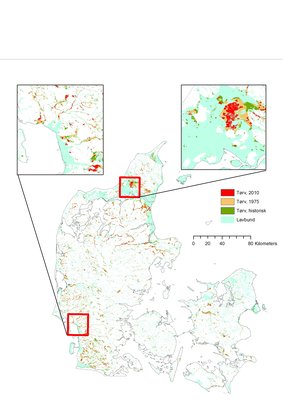 Figure 1 – The map shows the total area which was mapped (light blue), agricultural area which was previously or is presently peatland (green), distribution of peatland in 1975 (orange), and present distribution of peatland (red). Since 1975 the peatland area has been reduced by 50.000 ha.
For more information please contact: Senior Scientist Mogens H. Greve, Department of Agroecology, e-mail: mogensh.greve@agro.au.dk, telephone: +45 8715 7748, mobile: +45 2072 6734
?