New weeding modules for interrow cultivators to strengthen the effect of mechanical weed removal
A new research project with joint participation from Aarhus University and Kongskilde Industries aims to improve the effectiveness of mechanical crop field weeding. The project hinges on the development of new cutting solutions to improve the effectiveness against weeds when cultivating narrowly separated rows. The project is furthermore to develop a new treatment method to effectively combat couch grass and other perennial weeds with a shallow root system and runners.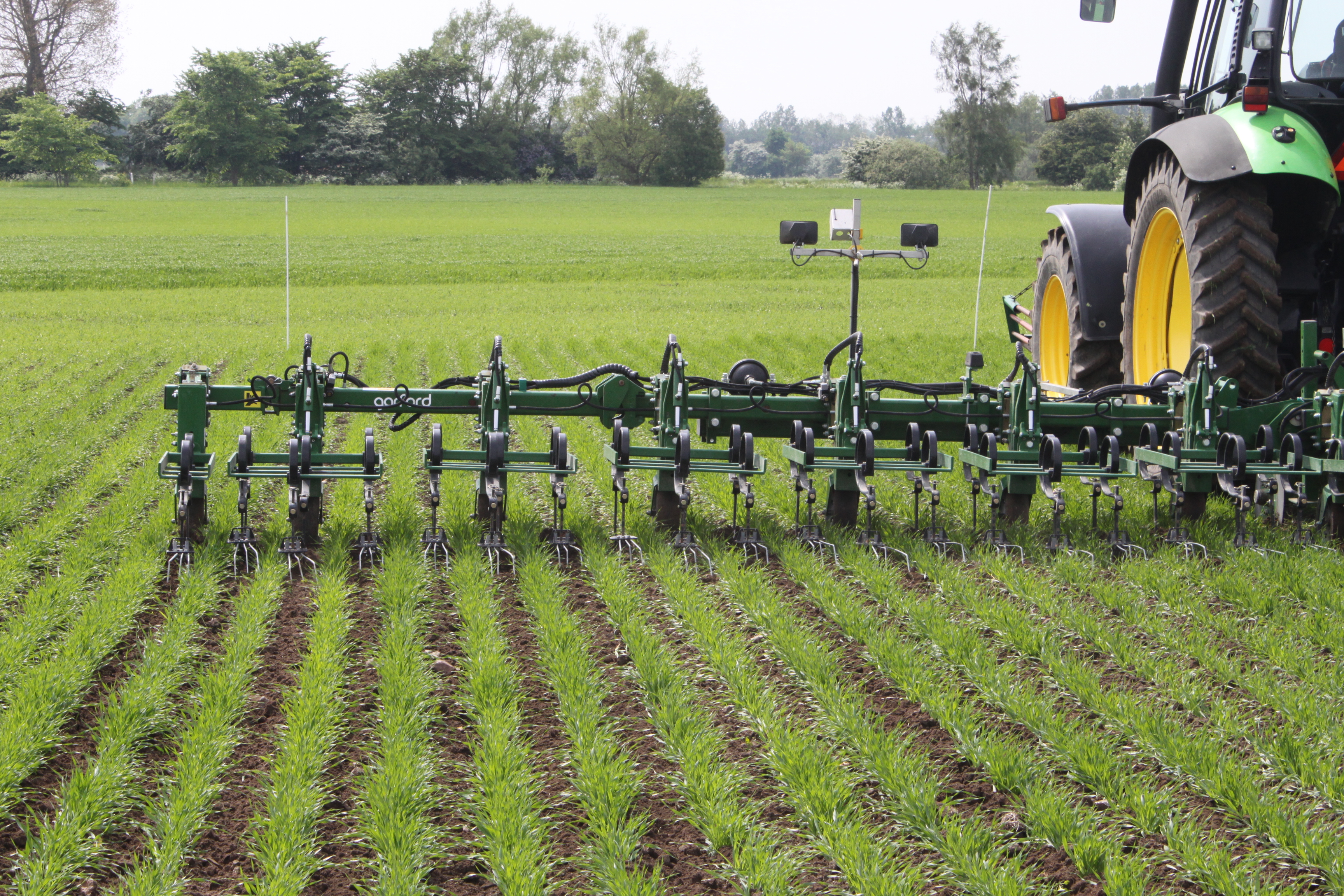 An increased resistance to herbicides and the requirement for organic farmers to carry out mechanical weeding creates the backdrop for a new research project led by researchers from Aarhus University.
The project, which is titled "NEWCUT – New tools for mechanical weeding", has just been granted 3.5 million kroner (£380,000 or $630,000) from the Green Development and Demonstration Programme of the Danish Ministry of Food, Agriculture and Fisheries. This money is, among other things, for the development of new weeding modules for cultivators. These are to ensure a greater and more reliable effectiveness against weeds. In addition to this, the project partners, Aarhus University, Kongskilde Industries and the Knowledge Centre for Agriculture, intend to develop a new machine prototype for combating perennial weeds with shallow roots and runners.
- We intend to develop weeding devices for row distances of less than 20 cm. Modern steering technology is capable of controlling of blades at small row distances. The project will develop blade shapes and combinations with other tool principles that provide optimal weeding effects at such small row distances , while providing the user with the choice of flexible blade types in the event that hoeing effects are required for small weeds within the row, explains project leader Bo Melander, associate professor at the Department of Agroecology at Aarhus University.
Large row distances risks yield loss
He points out that the ability to cultivate effectively at small row distances is important, because research carried out at, among other places, AU Flakkebjerg has shown that row distances exceeding 20 cm for cereals can result in yield losses of up to 10-15 percent.
While new steering technology has made cultivation more rational and cost-effective, the development of weeding equipment by way of blades and tines including other principles has not followed suit. One of the challenges faced is subsequent weed regrowth, weak effect on larger weeds and lack of crop protection during cultivation at specific crop growth stages.
The project parties are thus to develop rotating aggregators to be mounted behind the blades, in order to improve the weeding effect during particularly unfavourable conditions, such as the presence of large weeds or periods of damp weather.
- Our development of the rotating aggregators will be based upon the split-hoeing and basket weeding methods. Split-hoeing is based upon rigid steel brushes driven by oil engines. The method has proven effective against even larger weeds. Basket weeding is based upon net rollers, which are primarily effective against weeds in the surface layers. The method may be simpler than split-hoeing, but it can be made more aggressive by increasing the force used, says Bo Melander.
From the project partner, Kongskilde Industries' side of things, the chief of strategic development, Ole Green, looks forward to realising the projects potential.
- Cultivator solutions with new blade and configurations specially designed for small row distances would be a new element on the market, and would strengthen Kongskilde's competitiveness. It is of course expected that the project's promising solutions would also be useful for cultivation at the more typical row distances of 50-70 cm, and would thus help improve Kongskilde's current product range, says Ole Green.
Facts:
The project runs from 1 August 2014 to the end of 2017.
Further information: Associate professor Bo Melander, Department of Agroecology, Telephone: +45 8715 8198, e-mail: bo.melander@agrsci.dk